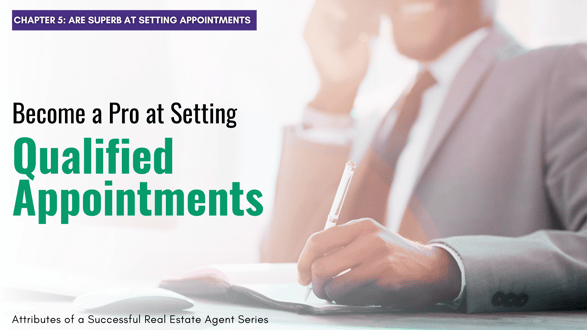 To continue with our Attributes of Successful Agents series, we want to acknowledge that successful agents are proficient and adept at setting qualified appointments. They
know that it is the lifeblood of their business. No appointments, no clients, no business! It's as simple as that.

Here's the thing, it's about getting qualified appointments, not just any old kind of one. I knew an agent that totally tired himself out going to appointment after appointment and not closing for the listing or the buyer. When we delved deeper into the situation, we discovered that he was just going with the emotional excitement of having an appointment without qualifying the lead to make sure it was worth the trip. Let that not be you!

At the end of the day, without

QUALIFIED

appointments, you will BURN OUT! Avoid the temptation to take any prospect that comes along, hoping for a deal in the end. Using scripts to help guide you on your first call will help you qualify the lead effectively with the goal to set a promising appointment. Click here to get our scripts and tactful questions to help you with the qualifying process.




HOW DO YOU QUALIFY?



When we talk about qualifying, we need to determine 3 major things:
1. Motivation
2. Action
3. Commitment

Here are some tips to help you determine this.

Motivation to Buy. Quality prospects must be motivated to buy, must want or need to take action within a short time frame, and must be committed to working exclusively with you. They are either motivated and able to buy, or they're not. Agents who work with low-quality buyer leads hoping they can raise their interest levels and convince them to take action are wasting valuable time. Even the most skilled salesperson can't prompt an unmotivated prospect to adopt a sense of urgency.

Keep Asking Questions. Be aware of exactly what motivates buyers to be looking for homes in the first place - and don't accept their first reply as gospel. Keep asking questions. Even asking the same key question (why are you looking to buy) only phrased a little differently later in a conversation and see what pops up. The more you know about the buyer, and specifically why they're wanting to buy, the better you'll be at meeting their needs.

Be a Problem Solver. When people have a problem, they want it solved. So when buyers begin explaining the answers to the questions you pose, think of their answers in terms of problems. Turn your work with buyers into a problem-solution format, and you'll up the urgency quotient.

Determine Willingness. How willing is the prospect? Willingness is whether or not they are ready to take action. Do they believe that they can find a great deal in this market and are committed to acting on that belief? These would be indicators of their motivation.

Will they Work with You? The prospect must indicate that they are willing to work with you, even if it's verbal at the onset. Be bold and ask if they have been talking or working with another realtor. At the end of the day, you are not working for someone else for no pay. An indicator of this is their willingness (or lack thereof) to meet with you for a buyer/listing appointment where you will walk them through the buyer process.

Are they Financially Able? They may be highly motivated to buy or sell, but you may be wasting your time unless you are sure that they qualify. It's ok to ask about the financials, that's your job. Ask if they have already done their due diligence and received a pre-qualification from their financial institution. If not, help them set up an appointment to get one. Tell them why it is in their best interests to get pre-qualified. For example, the buyer will have better negotiating power when they are pre-qualified with documentation.

The quicker you are to pinpoint a prospect's true motivation and ability to move, the more qualified appointments you will have.

Make a decision to refuse to work with those who just want to 'test the market' or ''just see what's out there'.

Click here to get our scripts and tactful questions to help you with the qualifying process.

Remember, the primary objective is to open a relationship not to close a sale. It's about asking questions and closing for the appointment, you can talk about commissions, price and anything else at the appointment. Focus on generating trust and confidence in the contact to get an appointment.

Time block for your appointment setting process every day and be dedicated to your follow up.

Persistence, commitment and a lot of patience will propel you to success! I know you can do it!