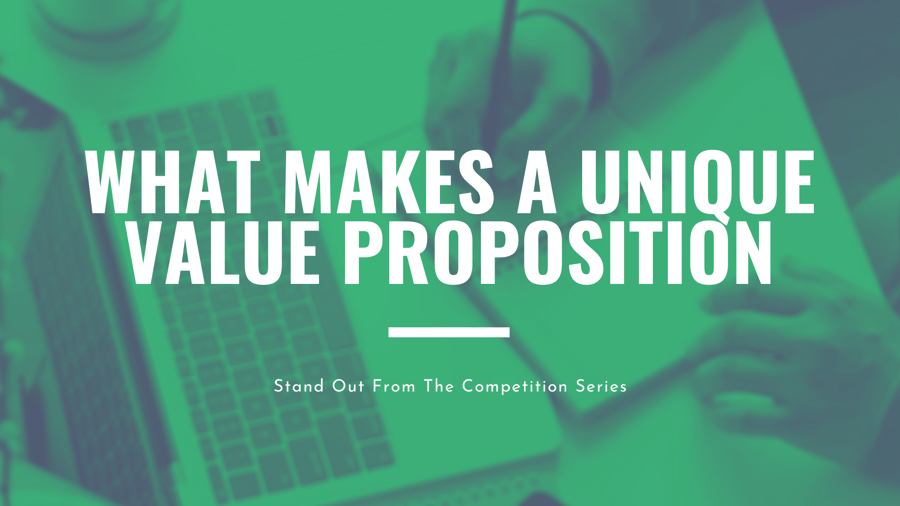 A value proposition is a promise of value that is delivered by one individual or organization to another. It's the primary reason why someone would want to work with you. Everyone in business should have not only a value proposition, but a unique one!
A unique value proposition should make you stand out from the competition in a positive way. Therefore, it's important to establish a niche for yourself and be an expert in that field; as well as be able to communicate this to your prospective audience.
4 Steps To Creating Your Unique Value Prop
osition:
1: Determine what you want to bring to the table that will set you apart
Ask yourself some serious questions:
Do you know what it is that you do that is unique, special or different when serving your clients?

How will you be able to separate yourself from your competition?

Why would an individual want to work with you instead of another agent?

Why should an individual work exclusively with you, instead of having several agents working for them?

Are you able to confidently charge full commission based on your value and expect to receive it?
2: Identify your ideal client
Once you figure out what you can bring to the table, realize that you can't please everyone. There are millions of transactions conducted annually; so, there's no one size fits all unique value proposition that's effective.
You have to know your niche, stick to it and be known for it. For example, an agent in my sphere was known as 'The Condo King' and so, when thinking of buying or selling your condo, his name would automatically spring to your mind to call him, because he branded and promoted himself as such.
Another example would be another agent I know that specialized in a specific geographic farm area. He didn't allow himself to be spread too thin by trying to service clients in areas that were too far outside this area, and therefore not completely familiar with. His resources, both financially and time wise, were spent on doing a job well done for his specific niche.
So instead of trying to be all things to all people, narrow your focus and specialize in an area where you can be successful.
3: Share your message by telling them

It won't matter how good you are in this business, until you figure out a way to communicate your abilities effectively. You need to perfect your verbal message so that it flows easily and naturally.

Once you've established what it is that sets you apart from other real estate professionals and crafted a clear message; practice using it naturally in sales conversations. Here are some tips:

Write it so it flows

Keep it short

Practice it out loud



We Know Luxury Homes

Profit from my Experience, call me and find out why when it comes to buying or selling condominiums in <city> why <company brand name> is the best choice.

I specialize in helping Empty-Nesters find the luxury downtown condo that's just right for them.

We love First Time Buyers, taking the fear and anxiety out of home buying and replacing it with confidence and excitement
4: Share your message by showing them
Have you ever heard the saying 'talk is cheap'? You can talk until the cows come home, but it will never be as effective as "showing" them what kind of results you create.
Show by using stats, testimonials and recent successes. For example:

If you are selling yourself as the 'Condominium Expert' show them how you know the buildings with the best management and facilities that are available; which buildings have the easiest access to public transportation and the best views, to name a few examples. Show how your listings typically sell in less than 2 weeks; and that 95% of your listings sell for 98% of list price or better.

Always provide visuals, people can relate to pictures and stories better than a lot of text. You've heard the saying 'a picture is worth a thousand words'? Well, it's true, the more you can convey by visual means the better.
Some examples would be:
I am a negotiator with a track-record of selling homes at an average of 2 percent over list.

Want to sell fast? Then I'm your real estate agent as my listings sell in 26 days on average, 13 days faster than the norm.
Take the time now, to work on this and make it part of your presentations. Otherwise, the next time somebody asks what you do, and you don't have anything better to say than, "I sell real estate," you'll kick yourself for not investing the time and energy to differentiate yourself from the pack.
Check out our worksheet on developing your unique value proposition.