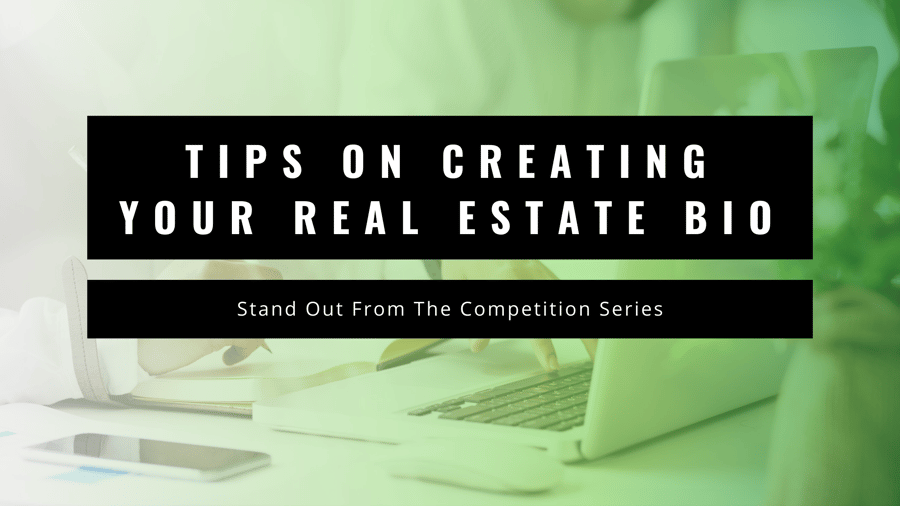 A strong bio is a powerful way to help build your personal brand and connect with clients. When done well, your potential clients will see that you are more than just a real estate agent. They'll see you as a real person, one they can relate to and trust. It helps establish your credibility even before you open your mouth to speak, which is important for making a good first impression and boosting your persuasiveness. When you're writing your bio, you want to focus on how the audience perceives you, rather than how you perceive yourself.
8 Tips to Creating an Outstanding Bio
Tip 1: Your story
Your bio should aim to tell your story by tracing where you are now, back to where you started. What are the experiences that shaped your current strengths, and perspectives that got you to where you are today? What accomplishments contributed to your expertise in real estate today?
Also, providing some insight into your personal life can be a great tool for connecting with potential clients. Let them see you as a real person! Supply them with some info about your family and extracurricular activities. Do you like pets? Sports? Showing your interests can help others better understand your current personality and perspective. Just keep it brief and light and don't get too intimate.
Tip 2: Include your professional experience
Have a page in your presentations and packages that show off your skills, education, awards and expertise. Keep it simple and show only your best achievements. Don't belabour your prospect with an excessive list. If they want more, you can provide a complete list
of credentials as an appendix.
For example, if you're creating a bio for your listing presentation, you'll want to include and highlight your achievements, awards and skills that show that you are the one that can sell their house, as opposed to your skill sets that should be highlighted in what you would put into your buyer package.
Tip 3: Show why you're the expert to the Real Estate Area
Be sure to include information about where you've lived and how long you've been an agent there. Demonstrate your knowledge of the area through stories and visuals! A great way to do this is through video to highlight why your area is so special.
If you're new to the area, show why you moved there and what you love about it. This is a great way to build trust with your clients.
Tip 4: You bio is not an advertisement
It's all about being customer-centric, not me-centric. Communicate that you're focused on their satisfaction and interests rather than your own business goals. Your bio should show how qualified you are and ultimately reveal you as a hard-working person that can relate to someone's wants and needs.
Tip 5: You don't have to start from scratch
Finding the best way to express yourself and catch your reader's eye can be hard to figure out on your own, so start by exploring what others have done. Looking at how others are positioning their skills and abilities should help you gain the perspective you need to get started.
Then, once you have some context, start by putting together a list of your strengths, awards, recognition, favorite projects, and positions (both past and present).
Tip 6: Get input and feedback from a trusted source
Get someone close to you to give you objective input. Finding the right words to describe yourself is much easier when you pull in an outside perspective for help. Others may point out strengths or examples of your professional accomplishments that you may have otherwise glossed over.
Tip 7: Just the right length
Aim for a medium length bio. Two to three paragraphs, or about 250 to 500 words, is the optimal length to shoot for. You want to connect with your readers, not overwhelm them away with a wall of text, or underwhelm them with a two sentence bio.
Tip 8: Proofread and review
Make sure your writing is 100% error-free! Correct spelling and grammar is an absolute must and a single error has the potential of turning a client away forever.
Take a 12 to 24 hour break so you can review it with a fresh mind, read every word aloud to yourself, and finally have a trusted friend, family member or colleague read it and give you feedback.
Final Thought
Make sure you keep your bio updated by reviewing it every six months or so. Your goal is to stay relevant and connect with potential clients before you even meet them, making you another step ahead of your competitors. And that's the name of the game.
Download the worksheet we've created to help you build and or improve your bio. Wishing you a profitable day!