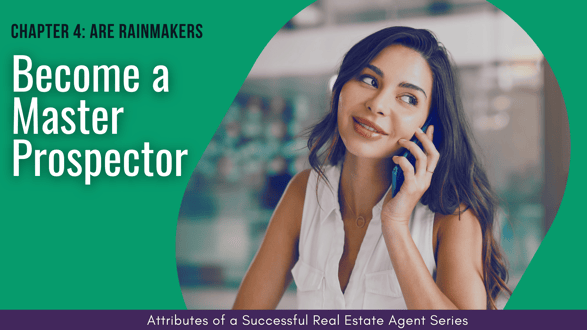 To continue with our Attributes of Successful Agents series, we want to acknowledge that successful agents are rainmakers. In other words, they have become proficient in prospecting.
The single most important skill you need to acquire and master is prospecting. What is prospecting? It is the process of initiating new business opportunities by targeting potential real estate clients. I know that that may sound dreary to some of you, but at the end of the day, it's an important aspect of your business to master. Whether you are a single agent who is only concerned about yourself or a Team Leader with the added responsibility of supporting other agents, it is a must for you to master this skill.
How to get motivated?
Getting started is always the hardest part when completing a task that you may be reluctant to do. So, understanding your 'why' is a good way to start. For myself, I had a family that was counting on me to be successful. When I started my real estate career I had a very young family with 3 small children and was completely broke. There were a lot of FSBOs in the early 1990's so I started calling them until the cows came home. All I knew was that these people needed to sell their homes and why not with me? Did I WANT to do it, or feel like it? Heck no. But I did it anyway because my family was counting on me. Before I knew it I became good at it and it was a habit that I did automatically, like brushing my teeth in the morning. It was an adrenaline rush to get an appointment and to see how many I could get in a day! I made it fun for myself. Find a way to do this for yourself as well. Enjoy your business and discover compelling reasons to go after it.
Don't procrastinate! Inconsistent prospecting can be extremely detrimental because there is a lag time between when you start working with a client and when you get paid. Keep in mind that it usually takes between 60 and 90 days from the time you start prospecting to when you receive a commission cheque. If you want to get new clients in real estate, you need to start as soon as possible. Have a 'just do it' mindset!
Do you have the leads?
You cannot prospect unless you have a steady stream of fresh leads and contacts to approach. Many veterans in the business that have healthy, well-established databases know that even though they enjoy the repeat and referral business that stems from their databases they must still actively engage in direct contact with people to grow, purge and nurture it.
Many contacts in our databases move out of town, or their children are now in control of the finances and they have their own idea as to who will represent them. If you're not adding to your database, it will decrease all by itself. It is beneficial for you to stay in contact with your existing people while continuing to add new ones. You've heard the saying, out of touch out of mind? Let that never happen to you!
Therefore, to get new clients, you'll have to do some real estate prospecting.
Create A Structured Prospecting Plan
To consistently maintain a full pipeline of prospects, you need an action plan. Unlike agents who seek prospects whenever they have spare time, those who follow a structured plan are able to find higher quality prospects on a more predictable basis.
1. Schedule Time Every Day for Prospecting
Make time to prospect every day. Doing calls for two days straight and then nothing for a week will not cut it. Treat prospecting like any other important appointment. Clear your schedule and devote your full attention to it. At the end of each day, evaluate your prospecting efforts and set objectives for the next day.
Action Steps:
Schedule time on your calendar to work on prospecting activities every day. Once you get rolling, you can lower the amount of time you spend prospecting per day as you get more referrals.
2. Spend Your Time Wisely
In your initial conversations with potential clients, find out how motivated they are to buy or sell and when they plan to make a decision. Prioritize the people who are most able and willing to move quickly.
3. Set Realistic Prospecting Goals
Calculate how many prospects you need to contact per week to secure a buyer's or seller's listing appointment. Veteran agents suggest that beginners target five contacts per day, one secured lead per day, and one secured listing appointment per week. However, you should also talk to your broker about the firm's average or what is standard for your market.
You work hard to get new clients as a real estate agent, so relying on your brokerage to help you set goals and procedures takes some of the guesswork out of it. If you're new at this you'll need to gain confidence and build your prospecting skills first. So set more manageable goals at the beginning.
4. Choose an area of prospecting you wish to focus on
To see results, it is important to commit to real estate prospecting tactics and follow through on them. After you've tried each idea full-heartedly you can assess if you're getting the best return on investment or if you need to change things up, you can refine your strategy accordingly.
Here is a shortlist of areas where you can actively prospect::
Calling people in your sphere

Calling past clients

Calling expired listings

Calling FSBOs

Calling/Door Knocking in your farm

A live chat, email, texting

Calling absentee owners

Knocking on doors

Hosting open houses

Networking
5. Give Your Contact Something of Value
Where real estate agents fall short in their prospecting is failing to give something of value to the person they're contacting. Your goal should not be about selling a property. You are trying to identify a potential client. Here is where you have the opportunity to offer something of value to the prospect. This could be a market report, trend report, or something in the news that could affect their property.
The best thing, though, is that it is comparable. Ideally, you or your company have just sold something in the neighbourhood. Owners want to know about that information. They want to know the details. They want to know who was involved. If you have that information, they will talk to you and be more apt to meet with you.
Other items of value could include things like CMA's, interest rates, stats in the marketplace, financial information, homeowner tips and so on.
6. Follow Up
Be sure to document all your calls/contacts and add a follow-up task at the end of each conversation. Keep in touch with your prospect as much as possible from the very start. Remember, the money is in the follow-up! This is just as important a task as the initial contact and ensures getting you more appointments.
I encourage you to make it a priority to engage in prospecting! Make it fun and something that you look forward to. It's all in your mindset. If you 'tell' yourself how much you look forward to it, you will have the positive mindset you'll need to do your 'task'.
Feel free to contact us here at The Profit Centre for more ideas on prospecting and putting together a plan. We're here to help you. We look forward to hearing from you.