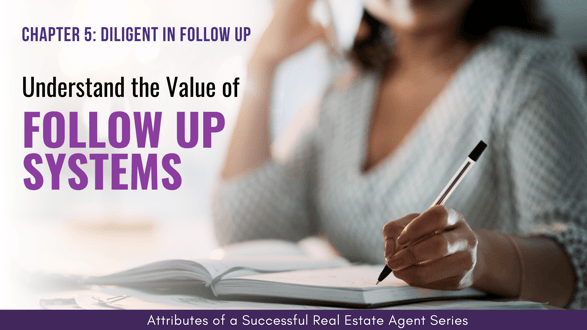 The next trait that Successful Agents have in common is diligence, especially in the area of follow-up.

They understand the value of following up with leads and that having good follow-up is the lifeblood of their business. It's a skill that sets them apart from the mediocre agents out there that give up too soon when it comes to follow-up.

Lead conversion rates increase when follow-up systems are in place, which reduces the effort required to generate new leads.

Follow-up falls under 2 major categories:
Lead Follow Up: This is the follow-up from a cold lead that leads to closing for an appointment to start the new client process





Existing Client Follow Up: This is the kind of follow-up required to maintain and massage existing client relationships.




LEAD FOLLOW UP
Because new leads are generally cold, you need to be diligent with leads and put in the effort to initiate the relationship.

Let's take a look at some well-known published sales statistics on lead follow-up to substantiate what I'm saying:
48% of leads are never followed up

25% of salespeople never make a second contact and stop

12% of salespeople only make 3 contacts and then stop
And, yes, as you can see by these statistics, 80% of sales happen between the 5th and 12th contact, but only 8% of salespeople actually follow up this many times.

In order to keep up with following up this many times, you need to be diligent and have a system in place that will simplify the follow-up process and make you feel confident that no leads are falling through the cracks. A way to do this is to have a great CRM in place with lead workflows and sequences in place that will systematize the follow-up process for you.
The system would include email, text, and auto-responding features with accompanying templates that correspond to every stage of the lead conversion process. This is by far the best and most efficient way to follow up.

If you would like a more detailed conversation on what this looks like, I invite you to click here to make an appointment to speak with me. I look forward to hearing from you!


EXISTING CLIENT FOLLOW UP
The next type of follow-up is to follow up with your clients, which, by the way, are the leads you've worked so hard to convert! That should definitely motivate you to be diligent in staying in touch, don't you agree?

Here are some tips.

Client Care
Whether working with your buyer or seller, good service and client care during the sales relationship are a must. Make sure you follow through with all the promises you made to your clients at your listing or buyer presentations and follow those promises through while working with them.

When it comes to your sellers, follow through with your marketing plan and client care to the letter all the way through to closing. Likewise, when working with your buyers, follow through with your buyer process diligently right through to closing. That way your clients learn to trust you to stand by your word.

Closing/Post Sale Follow Up
Just because a transaction is over doesn't mean you should lose contact with your clients. Most people are happy to refer you to a friend or family member after you've "WOW-ed" them with excellent service.

Never assume that the job is done after the sale–not if you want those clients to use your services again in the future.

Put a stay-in-touch strategy in place. Here are some ideas:
Handwritten notes

Social media posts

Emails

Texts

Client appreciation events

Past client monthly touch campaigns
Why all this effort? Because at the end of the day, you want to create a great client experience so that clients will use you again in the future and refer you to others!

Now, isn't that a great plan?

Feel free to contact us, if you want more details or information on this topic.